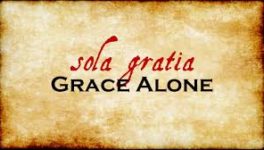 As we remember the 500th anniversary of the Protestant Reformation, we are reviewing each of the key points and reaffirming our understanding of the factors that led to this movement.  Next Wednesday (11.08.17) at 6:30pm we will look at Sola Gratia–Grace Alone. 
God's grace is everything for the Christian. By grace alone, God chose his people before creation. By grace alone, Christ chose to die for his people. By grace alone, God causes his people to be born again so that they are new creations. And decisively, God's grace transforms us into holy people.
Our deeds earned us death. Our works followed Satan. We were dead in our sins. Mary couldn't save us. Saints couldn't deliver us. The law could not justify us. But God.
Amazing grace, how sweet the sound.
Join us!  If childcare is needed, please let Renee Pitman know each week by Wednesday morning.