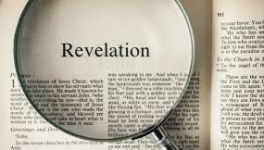 Unlike most books of the Bible, Revelation contains its own title: "The Revelation of Jesus Christ" (1:1).
The meaning of the term "Revelation" is "uncovering," "an unveiling," or "a disclosure."  Throughout the New Testament, we have spiritual truth that is shown to us (Rom. 16:25; Gal. 1:12; Eph. 1:17; 3:3), and is ultimately revealed in the person and work of Christ (Luke 2:32). The things that were once hidden are now revealed and become visible.  God in His goodness shows us what is yet to come.
Join us on Wednesday evening, January 31st at 6:30pm as we continue to explore this amazing book of Scripture.