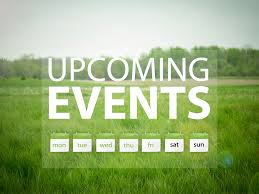 This Week
GEMS Girls' Club— Monday, March 12th at 6:30pm.
Adult Bible Fellowship—"Pick a Chapter"  Wednesday, March 14th  at the Annex beginning at 6:30pm. 
During our Wednesday night bible study, we will "Pick a Chapter" of Scripture.  The intent is to select a section or chapter of the bible that you'd like to study in detail.  If you have wondered what a section really means or you have wrestled with what the text really says, then join us for a verse-by-verse look at the chapter and walk away (Lord willing) saying, "I get it." We are currently studying the book of Revelation.
You provide the chapter you would like to review in advance and we will all do the work of providing  study in advance for the context, meaning, and application.  Pastor Mark will facilitate.  Pastor Mark: 419-485-8229, mark@bridgewatercc.org
Upcoming Events and Notes of Interest
Soup Sunday/Family Night—March 18th will be our next Soup Sunday/Family Night beginning at 5:00 PM. There is a sign-up sheet at the Welcome Center if you can bring soup, salad or bread. Our guest speaker will be Don Brown speaking to us about Kairos Prison Ministry.  The mission of Kairos Prison Ministry is to share the transforming love and forgiveness of Jesus Christ to impact the hearts and lives of incarcerated men, women and youth, as well as their families, to become loving and productive citizens of their communities. If you have a ministry you would like us to support, please contact Kylie Towers.  Kylie: 419-553-6857 birdy01@hotmail.com
Easter Sunday Breakfast—April 1st beginning at 9:30 AM we will be having our Easter Sunday Breakfast in the fellowship hall. There will be no Sunday School classes.  There is a sign-up sheet at the Welcome Center if you can help contribute towards the breakfast.  Our morning worship service will begin at 10:30AM.
Cancellation Policy—In the event of inclement weather on Sunday mornings, we will leave a message on the church answering machine (419.485.8229), have it posted on our webpage (www.bridgewatercc.org) and it will also be announced on WBCL( 89.5 FM). All church related activities on Monday and Wednesday evenings would be cancelled if North Central is closed due to snow or ice. If the weather would get worse following school and we would need to cancel, you can find out by again calling the church, checking our webpage or listen to WBCL.