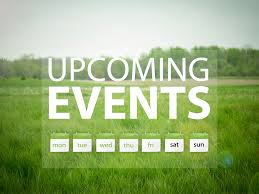 Upcoming Events and Notes of Interest
GEMS Girls' Club — Monday, December 9 beginning at 6:30pm.
Jill Graham: 419-799-0316, jill@danielandjill.net
Adult Bible Fellowship—Wednesday, December 11 beginning at 6:30pm.
 Join us on Wednesday nights as we study the book of Colossians. Paul encourages the Colossian Christians to see Jesus as the center of all reality, so they don't give in to pressure and they remain devoted to the exalted Jesus. Pastor Mark: 419-630-7049, mark@bridgewatercc.org
Cookie Exchange—1. Bake your favorite Christmas cookies. 2. Place 6 cookies on 6 plates. 3. Drop them off in the fellowship hall prior to church on December 15.                                                 4. Following the service, you can pick out 6 plates of cookies from the fellowship hall before you leave.   5. ENJOY!!!!
Christmas Caroling —On Monday, December 16 you are invited to go Christmas caroling with the GEMS Girls' Club!
Be at the church and ready to go by 5:30pm. We will then return back to the church for some hot chocolate. The evening will wrap up at 8:30pm. If you will be joining the girls, please let Jill know. Also, drivers are needed for the evening. If you can drive, please let Jill know that as well. Jill Graham: 419-799-0316, jill@danielandjill.net
Upcoming Ladies Bible Study- A new Bible Study will begin January 9 at 9:30am.  1 Peter: A Living Hope in Christ by Jen Wilkin.  You are encouraged to complete Women of the Word prior to the study, if possible.  If you have any questions, please contact Renee.  Renee Pitman:  419-630-0028, realm@roadrunner.com 
amazon.com—Did you know that if you place orders through smile.amazon.com and choose Bridgewater Community Church as your charity, we receive 0.5% from your order?
Prices are the same as amazon.com and it doesn't cost you a penny. Please consider ordering from smile.amazon.com and choose to support Bridgewater Community Church. THANKS
Cancellation Policy—In the event of inclement weather on Sunday mornings, we will leave a message on the church answering machine (485.8229), have it posted on our webpage (www.bridgewatercc.org) and it will also be announced on WBCL( 89.5 FM).
All church related activities on Monday and Wednesday evenings would be cancelled if North Central is closed due to snow or ice. If the weather would get worse following school and we would need to cancel, you can find out by again calling the church, checking our webpage or listen to WBCL.